Big Night - Dinner & a Show 7/14/22
July 14, 2022 06:30 PM until July 14, 2022 11:00 PM
Big Night - Dinner & a Show
Thursday - July 14th, 2022
6:30pm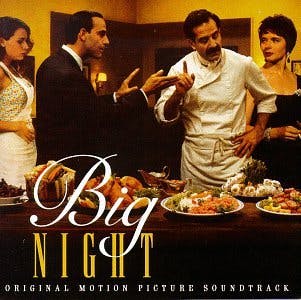 Our favorite food film of all time, Big Night, came out in 1996. A cult classic, it's a hysterical account of the sometimes heated relationship of two brothers who open an authentic Italian restaurant in (not-so-worldly) 1950's New Jersey, which is not quite ready for them.
Tony Shaloub, Stanley Tucci, Minnie Driver, Isabella Rossellini, Liev Schriber, Marc Anthony, Allison Janney
The music, the dialogue and the cinematography are all just perfect. At the center of it all is the food: A huge feast and all the love and care and drama that goes into it.

We showed this film every year from 2000 to 2019. Now we're back after a two year break. We will meet in the private screening room at The Heldrich Hotel across the street. Film starts at 6:30, truffled popcorn included.

Immediately afterwards, we will recreate the feast from the film in the dining room of Catherine Lombardi. We will dine at large communal tables and great fun will be had by all. Our sponsor is none other than...Grupo Campari. So we will start the night with a frozen Aperol Spritz and have Campari and Anisette also featured prominently (just like in Catherine Lombardi's Brooklyn).
Click for trailer
Menu
Italian Wedding Soup ★ Trio of Traditional Risotto
----
Timpano Stage Left Style
----
Mixed Family Style Feast
Roasted Organic Chicken, Whole Roasted Branzino,Roasted Suckling Pig,
Zucchini Flowers, Roasted Garlic with Broccoli Rabe and our famous Garlic Bread
---
Flambé Pascal

Dinner, Private Screening, Frozen Aperol Spritz & Anisette with Coffee!
$139.95 plus tax and service

Reserve Here
Will Charge $50 pp Deposit