10/11/23 - Le Chêne Bleu Wine Dinner with Nicole Rolet
October 11, 2023 06:30 PM until October 11, 2023 10:00 PM
Le Chêne Bleu Wine Dinner
with Nicole Rolet
★ Wednesday, October 11 ★
★ Hors d'oeuvres 6:30 ★ Dinner at 7 PM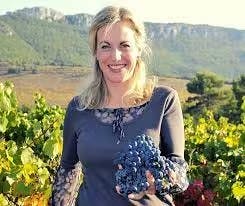 In 1994, the Rolet Family established Chêne Bleu on an abandoned property in the Rhône Valley at the foothills of Mont Ventoux. Though the vineyards had long been neglected, they date back to the early Middle Ages.
The wines are excellent. The Rolets however, faced a conundrum. Their estate sits on FOUR different Rhône Valley appellations: Gigondas, Côtes du Ventoux, Côtes du Rhône and Séguret.

The wines are truly excellent, but what to call them? They didn't want to keep each parcel of property separate with different names.
They chose instead to produce extraordinary wine that doesn't fit neatly into appellation rules. They took a lesson from the Super-Tuscan producers. They chose to eschew the prestige of any higher appellation. Their wines fly under the Chêne Bleu banner and are each assigned a name, like Abelard and Heloise.
The reds are elegant, powerful and complex. Their Rosé is an absolute standout, and their whites are deeply satisfying and interesting expressions of the Southern Rhone. Please note that we're fortunate to be drinking Abelard and Heloise with significant bottle-age.

"Like the Super Tuscan producers, they decided to step out of the appellation system...which resulted in wines of stunning grace and freshness...one is going to be hearing a lot more about Chêne Bleu — it could be the world's first Super Rhône." — The Wall Street Journal
Hors d'Oeuvres
Rosé 2022
Olive Oil Poached Halibut
White Wine, Black Garlic, Parmigiano Fingerling Potatoes
Aliot White 'Roussanne, Grenache Blanc and Marsanne' 2018
Terrine of Pork with Warm Mushroom Salad
Reve de Scipion 'Grenache, Syrah, Mourvedre' 2018
Duck with Green and Pink Peppercorns
Abelard 'Grenache, Syrah' 2015
Heloise 'Syrah, Grenache, Viognier' 2015
Pear and Apple Tart with Calvados Ice Cream
$179
Plus Tax and Service
^$50 Deposit will be taken at time of sign up^